Kinya Izakya and Ramen
When it comes to after-working drinking places in Singapore, it is undeniable that bars still come to mind first.
The Izakaya culture, whilst already present in Singapore, is unfortunately not as prominent.
So when news that a new Izakaya has opened in the hearts of Singapore, it is of no surprise that I immediately took time off to visit the newly opened Kinya Izakaya and Ramen.
Unbeknownst to many, the seemingly new kid to the block has been a long player in the F&B industry.
izakaya (居酒屋)
An izakaya is a type of informal Japanese bar that serves alcoholic drinks and snacks.
They have been compared to Irish pubs, tapas bars, and early American saloons and taverns. WIKI
Sapporo Ramen Miharu
Previously known as Sapporo Ramen Miharu, the ramen joint was one of, if not the oldest establishment in Singapore that was run and owned by a Japanese.
(It's either Marutama Ramen or Miharu were the earlier ones)
Back in the days, ramen shops were not commonly present in Singapore and the major chain was probably Ajisen Ramen.
Soon enough, ramen evolved quickly, with early entries like Sapporo Ramen Miharu and the likes of Ippudo.
View this post on Instagram
You could even say that Miharu was the God-Father of Ramen / Tsukemen joints in Singapore, especially for the Japanese community living here in Singapore.
It is also known back then that Miharu ramen was the only ramen store that handled Nishiyama Seimen's ramen noodles outside Japan.
Unlike the rest that followed including Ippudo or Keisuke, Miharu was never seen as one of the more hyped places.
Though business seemingly remained stagnant with just one outlet, Miharu was one of the more sustainable, humble establishments that lasted through the years.
View this post on Instagram

Most foodies would have been to Miharu more than once.
I believe that consistency played a huge part in its sustainability. While others try to innovate with new flavours, Miharu keeps to what it does best, and does it well.
The Hokkaido-styled ramen, where you find staplers like miso, buttery corn and thick noodles are distinct items that you find in their delicious bowls.
In my mind, what Miharu sought to achieve was the warmth and comfort of a simple bowl that stuck to its roots.
View this post on Instagram
New chapter, New location as Kinya Izakya and Ramen
It came with shock when I heard that Miharu was closing, it felt as though a part of the ramen culture would have been lost.
Huge sense of relief when I realised that they were just rebranding to open Kinya Izakaya & Ramen.
Now, in addition to ramen, the brand seeks to promote the izakaya culture by creating a platform for anyone to come down with colleagues and friends to drink and have good food.
Located at South Beach Tower, just a stone throw away from Esplanade MRT, Kinya Izakaya & Ramen is both highly accessible and convenient.
Despite being in the city area, Kinya is tucked away in South Beach Tower, away from the hustle.
I am especially fond of South Beach Tower; I find it the perfect location to have an affordable Izakaya joint, for you to unwind after a hard day at work.
Since becoming an Izakaya, Kinya offers a plethora of drinking options, from Japanese sake to highballs to umeshu (plum liquor) and beer.
The options are endless and you find yourself spoilt for choice.
Kinya Izakya's Ramen and Tsukemen
Good news though – their famed ramen dishes are still available!
And I must say, the essence has not changed much. I had the Tonkosen Sapporo Miso Ramen ($18). The overall flavour is rich and creamy. I can say that the ramen has actually improved and it is rather addictive. Other options like Negi Miso and Ookara Miso are also available.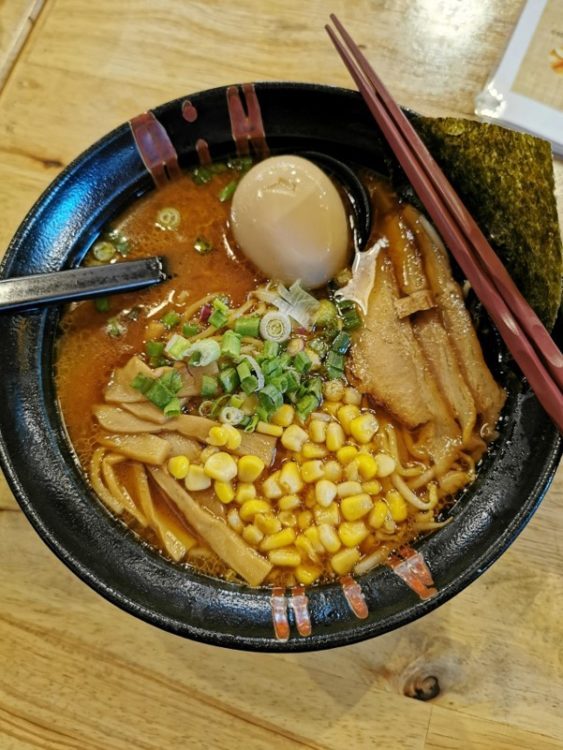 If you are fond of their Tsukemen Dipping Noodle series, then definitely go for the Komi Tsukemen, dipping noodles with citrus soy sauce soup.
While the normal ramen is their specialty, their tsukemen series is equally good. Dip the noodles in the tangy citrus broth and slurp it all up.
Kinya Izakya's Sashimi  and other dishes
If you come with a group of friends, it might be wiser to order a few small dishes for sharing. Since becoming an Izakaya joint, the shop offers a huge variety of smaller dishes as well.
When it comes to alcohol like sake, one would think of fish. Kinya does feature and array of dishes that are served raw and deep fried. As a starter, we had the Maguro Yukke ($15), one of my personal favourite dishes to start off the night. Nothing beats a marinated tuna served with a raw egg yolk!
If you are not a fan of egg yolks, go for the Akami Maguro Sashimi ($15) or the Buri (Yellowtail) Sashimi ($15). Note that both Akami Maguro and Buri Sashimi are not marinated. Dip each slice in some wasabi and soy sauce and you get the perfect starter for the meal!
For the less adventurous, you can always opt for their Kaisen Bara Chirashi ($28). Rice topped with a variety of fish include Tuna, Salmon, Amaebi and Ikura.
As a sushi lover, I was really surprised to find that the star of the night was actually the Tori Tsukune ($6).
The tsukune was both juicy and tender. The accompanying sauce was not overly sweet and complemented the tsukune well. The overall portion was also decently sized, definitely something to be shared among friends.
Other simple bites that I would recommend include:
Tokusei Yaki Gyoza ($8),
Tokusei Shiso Gyoza ($8),
Ika Sugatayaki ($16),
Tori Karaage ($12), and
Aji Furai (Mackerel) ($10)
I was surprised at how easy it was to slice through the Ika Sugatayaki and each resulting piece was not chewy and highly delectable.
The Aji Furai proved to be a favourite amongst the group, since it was quickly cleared up within minutes.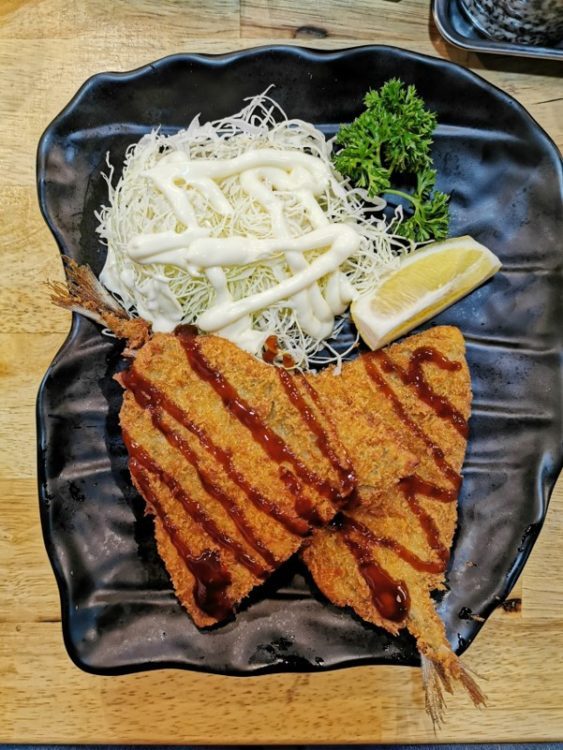 In all, I am pleasantly surprised to find that every dish was exceptional and to my liking.
Was rather worried at first to know that the ramen store will transition to also include Izakaya style dishes but my visit proved me otherwise.
Right smacked in the middle of the working districts of city hall, I believe that this step towards promoting the Izakaya culture to Singaporeans is the right way to go.
Kinya definitely check all the boxes in terms of food, convenience and variety. With more promotion, I am sure it will become a one stop place for working adults to take their mind off work and relax over a couple of drinks.
Kinya Izakaya and Ramen
Izakaya Name: Kinya Izakaya & Ramen
Address: 26 Beach Road, #B1-22 South Beach, Singapore 189768
Phone: 6733-8464
ハロアジ・レビュー
ハロアジ
Review Date
Reviewed Item
Author Rating