UMA Yakitori | Orchard Plaza
Step into UMA(馬) Yakitori and you would notice, the place is filled to its brim with Japanese expats – that is how you know that the food is authentic and tasty.
Having been open since 2007, UMA Yakitori is one of those places that has always been around, pretty under the radar and well-hidden but nevertheless a hit amongst expats.
Do not expect fanciful dishes as each plate is down to earth yet highly delectable.
I would recommend taking the counter seat to have a good view of the chef's cooking.
The entire restaurant seats around 25-30 pax and tables are available for larger groups.
Undeniably, UMA Yakitori has always been on the "to-go" places on my list, yet perhaps due to the long years of operation and unassuming nature, I have never had the urge to head down.
View this post on Instagram
Well tucked away at a corner in Orchard Plaza (faces the road), passers-by heading down the regular Orchard Street might not notice the restaurant at all.
Furthermore, the number of Japanese offerings at Cuppage Plaza and Orchard Plaza might outshine UMA Yakitori unfortunately.
The nature and prices of these restaurants might also be rather unappealing to some locals but trust me, once you have had a try at these places, you will never look back again.
Whilst not being entirely stylish, the interior of the restaurant is quite similar to what you find in Japan, modest and kept simple.
Unlike others, UMA Yakitori is rather quiet with not much shouting from orders or cooking chefs, but you can definitely feel the "energy" coming from the kitchen, with head chef turning up the heat and grilling some spectacular dishes.
Uma Yakitori Maguro Sashimi on Stick
For starters, go for the Zuku – Kushi ($4.50 per piece).
Basically, thick sliced Maguro Sashimi on a stick.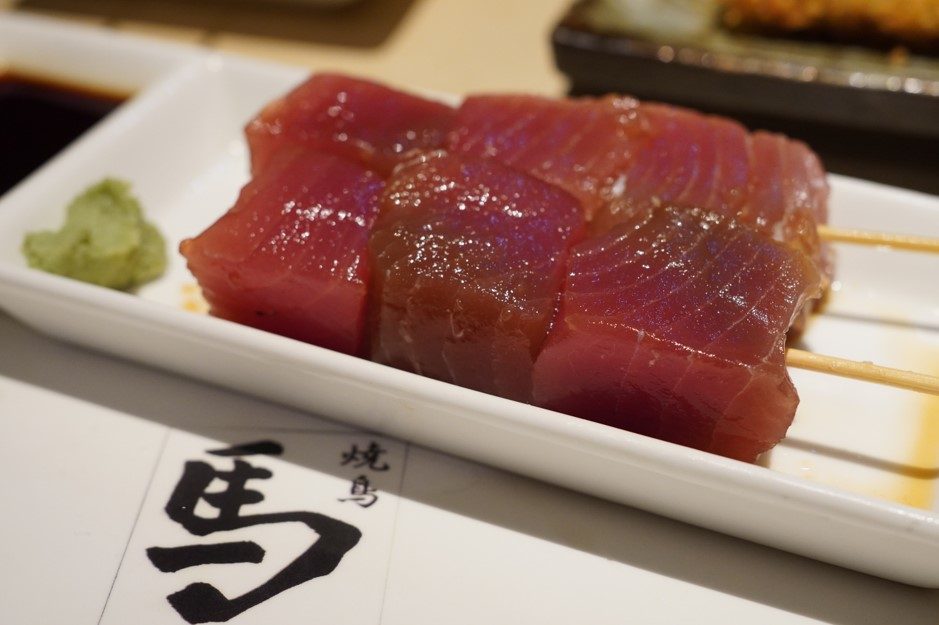 This was highly recommended to me by a fellow Japanese. And I did know there was such a Yakitori using raw fish.
View this post on Instagram
Uma Yakitori's Yakitori
Each cube was thick and incredibly fresh.
Was rather afraid that it would turn out dry but was pleasantly surprised.
Throw in some wasabi, dip it in some soy sauce you got yourself the perfect starting dish.
Next up, always go for the Chef's recommended assortment ($14.20).
As this platter was served to the table, I could already smell the addictive fragrance that got me taking huge whiffs before digging in eventually.
I find that UMA Yakitori's charm lies with the chef's ability to keep things simple and attaining that perfect balance, unlike some others that pretty much over-season everything.
View this post on Instagram
The beef Harami in particular, was tender to the core and another perfect contender for that "melt in the mouth" category.
The chicken and spring onion was well torched and the spring onions provided that contrasting crunch.
Was so smitten by the Beef Harami ($6) that I found myself ordering 2 extra sticks. Definitely the must order item for the night!
If you are looking for some major carbs intake alongside your sticks, I would recommend the Yaki Onigiri ($6.20).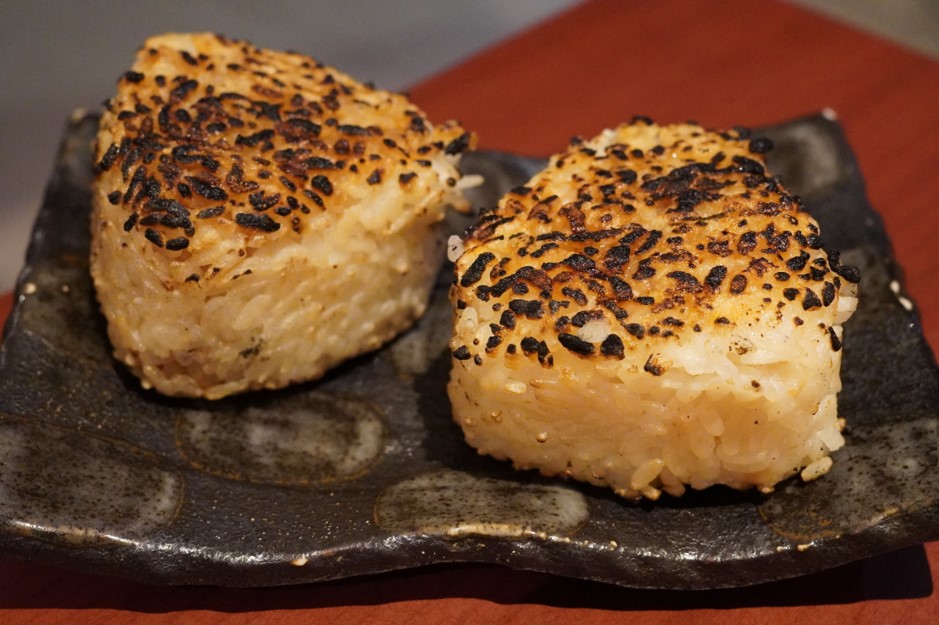 The deliciously grilled rice balls took me by surprise. Was not expecting much flavour but this won me over with my first bite.
Oh, just a note, each rice ball is huge! So ordering a pair is sufficient.
UMA Yakitori's Kushikatsu
If you have noticed by now, UMA Yakitori also specialises in Kushikatsu, or deep fried sticks.
And apparently you will hardly find any Kushikatsu at Yakitori places.  Only those who are from Fukui Prefecture will have both menus in our restaurant.
If you are unsure like me, go for the chef recommended Deep Fry 5 Assorted ($12.80).
Sometimes it might be difficult to identify what you are getting so I will kindly break it down for you – the 5 assortment includes
lotus root,
onion,
pork belly,
beef and
quail egg.
View this post on Instagram
Think most locals would have had lotus root in soup form (Chinese Lotus Root soup), but in a deep fried style?
Definitely one to try.
The overall crunch from both lotus root and the fried exterior was pure joy, with the fried batter offering a greasy and tantalizing touch.
The quail egg was also spectacular; I would often opt for the quail egg in Yakitori / Kushiage places.
Was not much a fan of the onion though.
Despite being sweet, it was perhaps too oily for my liking. As expected of the pork and beef though, the internal fats definitely sealed the deal for me.
Uma Yakitori Seafood Yakitori
Finally, for the seafood lovers, the Seafood assortment ($9.20) is just the thing for you.
Personally, I prefer to take my seafood raw (Crazy isn't it?), but this might have changed my opinion, considering how succulent the prawn was, with that added charcoal grill touch to the surface.
The octopus, was tender and easy to chew, a good change to the usual you get from lower quality places.
The shishamo here was, as expected, great as well. Trust a yakitori place to get the best shishamo!
View this post on Instagram
In all, if you are looking for a great place for drinks and chilling over good sticks, well hidden away from the hustle and bustle of Orchard Road, head down the less walked path and definitely give UMA Yakitori a try.
Prices are rather affordable as compared to other neighbouring places and you get food that will not disappoint.
And it's a place where you could just go in and chill.
Uma Yakitori and Kushiage
150 Orchard Rd #01-26