Sushi Kou Singapore 鮓 煌 
If you are on a quest for pure umami indulgence and seeking luxury for your palate, then Sushi Kou should be placed top of your list.
The intimate fine dining restaurant seeks to bring out the finest in "taste, ingredients and space", with premium seasonal ingredients purchased from Toyosu on a daily basis.
Sushi Kou promises an impeccable dining gastronomic experience, coupled with the finest service.
Most would actually be familiar with head chef, Yoshio Sakuta, who helmed 2 michelin starred Shoukouwa in Singapore.
Due to COVID-19 restrictions, Sushi Kou has begun operations in June, currently only providing take-aways.
Circuit Breaker Phrase 2
The restaurant will open from 19th JUNE 2020.
The take-away menu includes 3 items, namely:
Nama Bara Chirashi ($130),
Nigiri Set ($170) and
Kou Special ($250).
You would notice that whilst the prices are on the higher side, the ingredients offered are top notch in terms of quality and freshness.
Chef Sakuta, who has culminated many years of experience and trained with the best chefs worldwide, has a reputable history working in top Japanese restaurants worldwide.
This includes Sushi Negishi and even Michelin starred Sushi Zen in Sapporo.
Now, after honing his skills at Shoukouwa, he has moved on to Sushi Kou. As one who believes in an upright attitude, his undying passion to improve his skills and seek out the best ingredients has brought him to where he is today.
As with Japanese culture, Sakuta also believes in upholding the ecosystem and respecting the ingredients and their habitats.
Located in Holiday Inn Orchard City Centre, the quaint restaurant definitely brings attention by its contrasting exterior, one that exudes exclusiveness.
Stepping in, you are greeted firmly by the restaurant manager; it does feel like you are transported to Japan, especially with the level of fine mannerism and intricate yet calm interior design unique to Japan.
The intimate place seats only 9, with Chef Sakuta taking centre stage as he preps and charms his diners, who have full view of his work station.
The counter seats are made using a 300-year-old Cypress treetop and their cutting boards are made using the same material.
In normal times, the restaurant will serve only 2 courses:
Aya ($350) and
Kou ($450).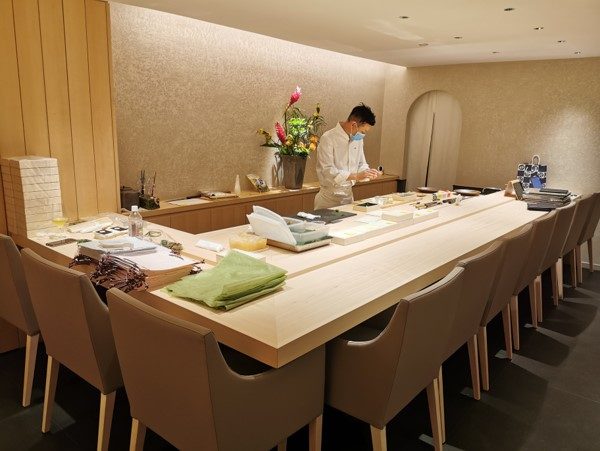 I was extremely privileged to have tried 2 items on their take-away menu, the Nigiri Set and the Kou Special.
SUSHI KOU"s Nigiri Set
The Nigiri Set featured an assortment of fishes, including:
3 kinds of tuna,
white marbled sole,
Sea Bream,
Grunt,
Kinki,
Razor Clam,
Murasaki Sea Urchin,
Bafun Sea Urchin,
Kohada,
Tiger Prawn,
Eel,
Salmon Roe, and
Dried Gourd.
I was especially fond of the Hon Maguro (Tuna), which came from Aburatsu, Miyazaki Prefecture, which is said to be the finest of quality.
A technique called "Ikijime" is used to preserve the freshness of the tuna.
You can definitely taste the exquisite umami from all the 3 kinds (Akami, red meat), Chutoro (medium fatty tuna) and Otoro (Fatty Tuna).
The Kanpyo (dried gourd) was another pleasant surprise.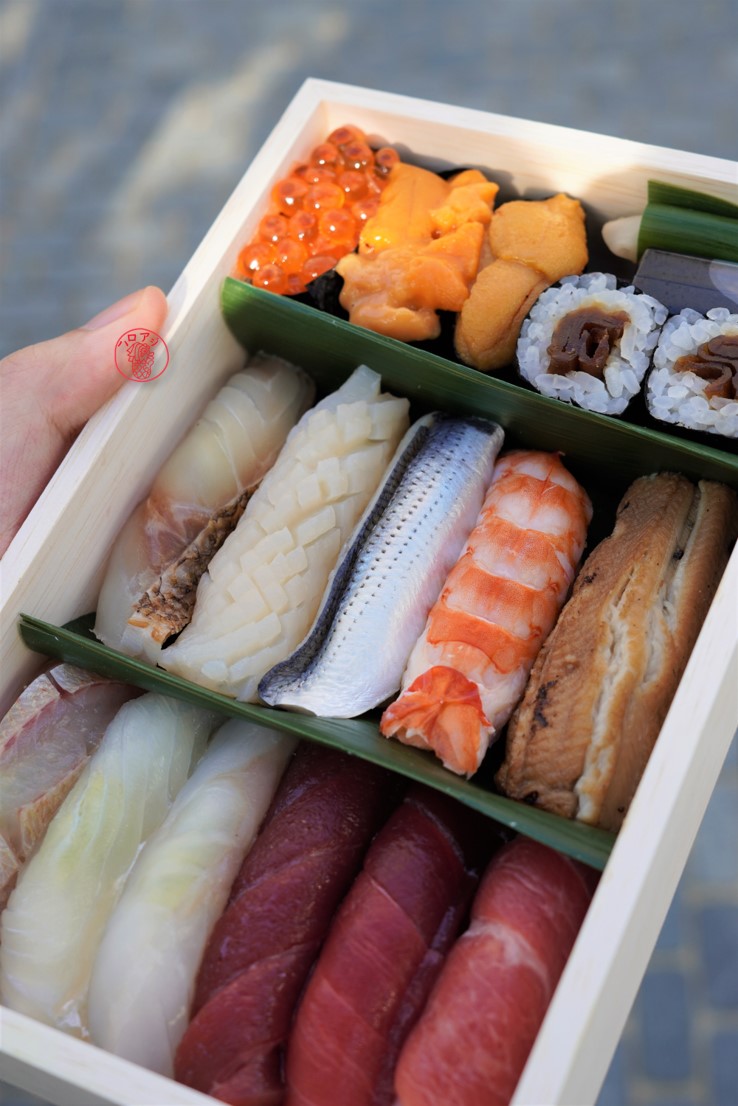 The ingredient is commonly found in Futomaki but definitely not a common sight in Singapore.
Fresh tiger prawns from Amakusa, Kumamoto Prefecture is also used here and are commonly renowned for their beautiful appearance, size and flavour.
The sea bream was another favourite, known as Kasugodai, this seasonal sea bream is only 1 year of age, resulting in a unique and palatable taste, different from that of a full grown bream.
SUSHI KOU's Kou Special Box
The Kou Special presents something a little more luxurious, featuring an assortment of:
fatty tuna,
steamed abalone bafun uni,
murasaki uni,
salmon roe and
caviar.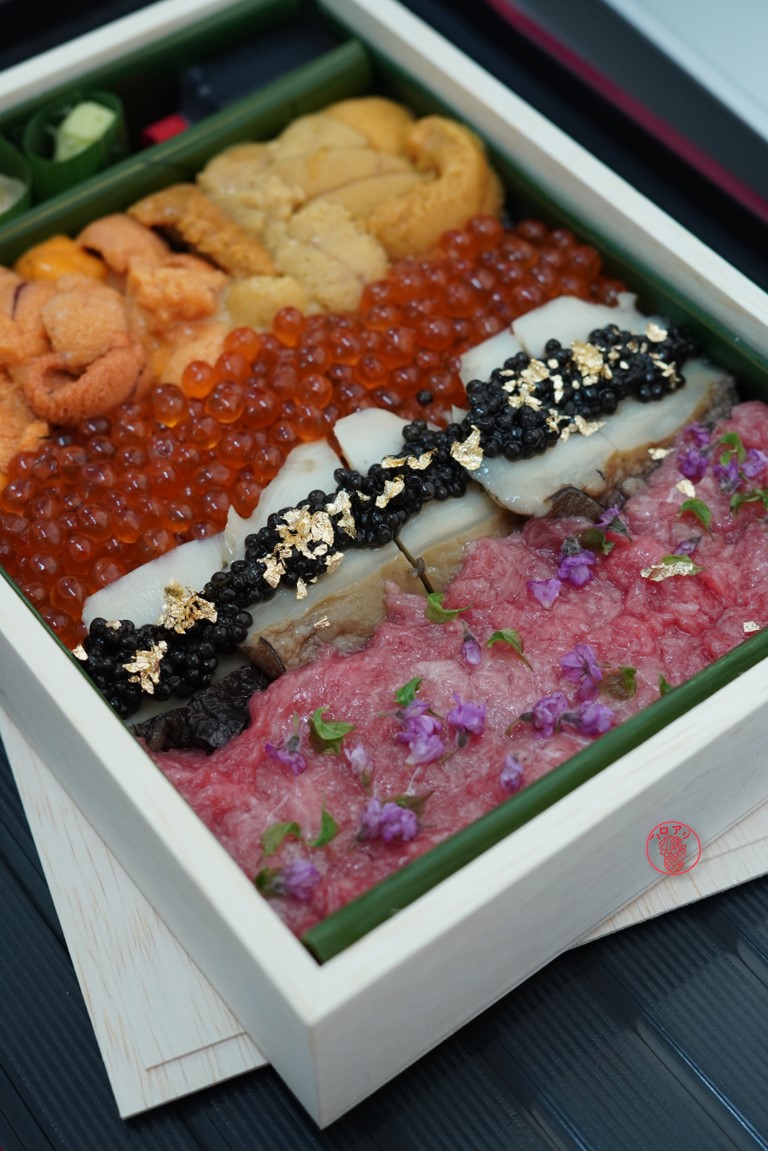 On the extravagant side, the sea urchin is produced in Yoichi city in Hokkaido, while the caviar is of highest grade produced in France.
Despite the traveling time from Sushi Kou to my home, each item was still rather fresh in my opinion; I wonder how delightful they would taste if eaten right at the counter.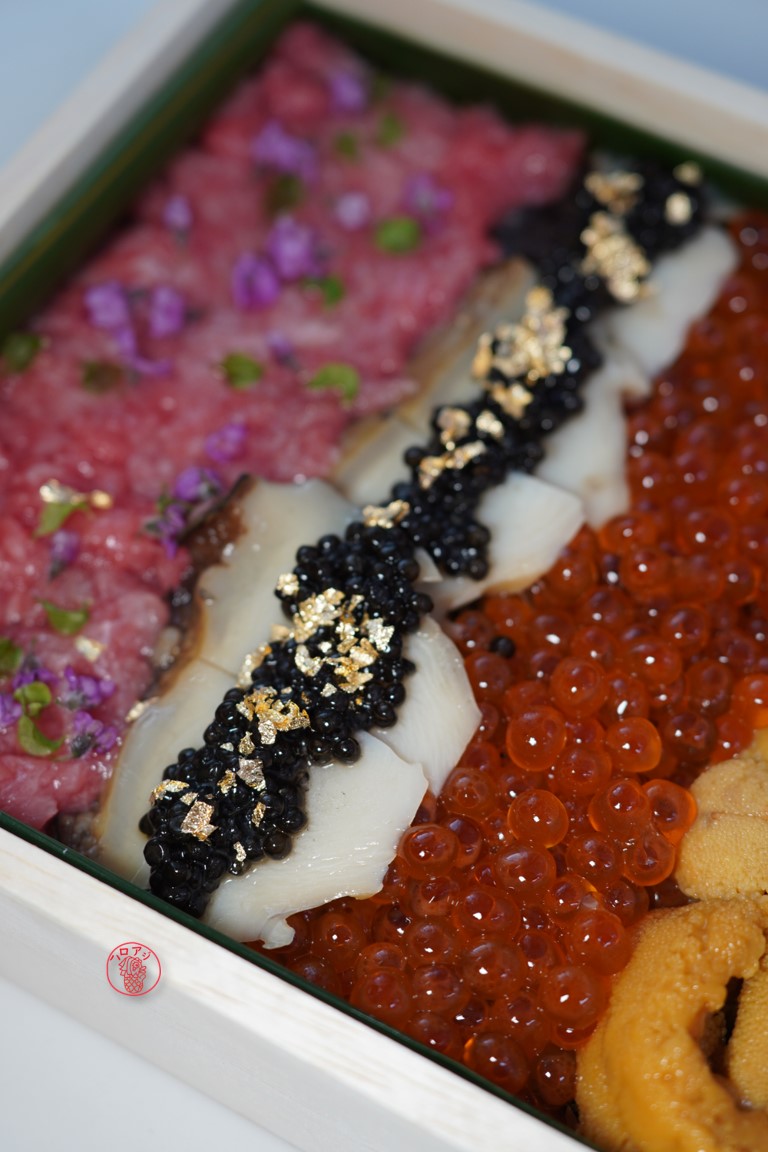 In particular, the bafun uni was umami packed, and I found it to be highly delectable when eaten together with the steamed abalone.
The fatty tuna was without a doubt worthy of the "melt in your mouth" praise.
Each bite was rich and loaded with umami; throw in some fresh grated wasabi and you get pure bliss.
SUSHI KOU Takeaway Menu
The take-away sets have indeed impressed and have set the preliminary stages for what is to come.
Sushi Kou will be the new player to look out for.
I am sure that Sushi Kou will join the ranks of Shinji and Kisho quickly.
The restaurant has already gained quite the reputation among the Japanese community living in Singapore and will no doubt become the spot to beat in no time.
With only 9 seats available, the added exclusivity could also play to Sushi Kou's benefit, Sushi Connoisseurs will be sure to rush to snatch up a seat.
As COVID-19 persists, it is heartening to know that Sushi Kou is able to open as planned so if you wish to order, support and try out Chef Sakuta's amazing dishes while you can, please contact the restaurant at +65 6235 5670 or visit their website at https;//sushikou-sg.com.
Whoever you bring to Sushi Kou or order their menu, you will definitely bring a smile to their faces.
View this post on Instagram
SUSHI KOU Singapore ADDRESS
11 Cavenagh Rd #01-13/14 Holiday Inn Singapore Orchard City Centre
6235 5670
°˖✧◝(⁰▿⁰)◜✧˖
Follow us on TG for other curated Japanese + Korean promos in Singapore: https://t.me/helloasiasingapore
ハロアジ・レビュー
ハロアジ
Review Date
Reviewed Item
Author Rating





Product Name
Price
Product Availability