Japanese infused French restaurant | Omakase @ Stevens
Naming a restaurant "Omakase" is indeed bold.
The expectations that come along the world renowned term "Omakase" will no doubt be quite considerable. Omakase means to "leave it up to you" or to entrust the Chef with your meal.
Speaking to the owner, he decided to name the restaurant in a straightforward fashion, so that customers are aware that they are in for a no-frails, fine dining Japanese experience.
Omakase @ Stevens has soft launched and is currently offering only dinner services at $280++ per diner. Though the price is considerably steep, we will dive into what the restaurant has to offer and whether it is worth its price.
Omakase @ Stevens | Kubota Shusuke san
Omakase @ Stevens is helmed by Executive Chef Kubota Shusuke (28 yrs old) san, who hails from the city of Nagano.
As a graduate of the prestigious Tsuji Culinary Institute, he brings years of world-class culinary experience and knowledge to the palates of diners.
He has since apprenticed at renowned Michelin-starred restaurants in France and Japan, striving to use his Japanese roots and influences of French cooking techniques to impress his diners.
True enough, his culmination of experience and technique can be seen in his well-executed daily specials, which are aimed at tantalising all five senses.
With his experienced background, Chef Shusuke seeks to welcome his diners to "Omotenashi" (great hospitality), a unique concept deeply engraved in Japanese culture.
The restaurant seats about 14 pax, and the interior decked with wooden beams and a minimalist look, which sits right up my alley!
The minimalist and Muji inspired décor reminds me of my dining experience at ESORA; a rather refined yet relaxing atmosphere.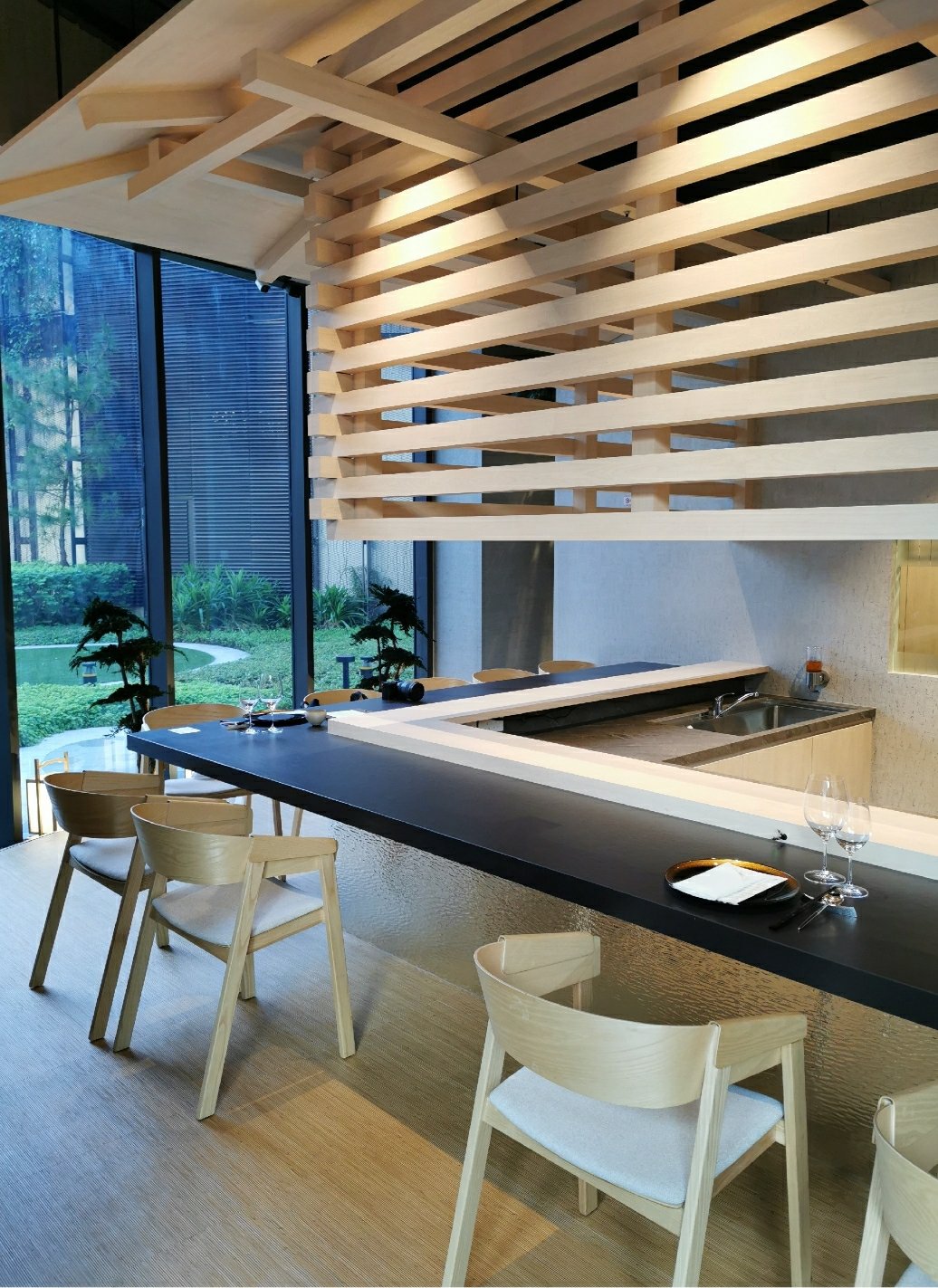 Chef Shusuke made his appearance shortly and humbly introduced himself.
He has just arrived in Singapore not too long ago, and has since been making visits to various fine dining establishments in Singapore to better understand the community.
I took a look at the line-up of dishes for the night's course and was already impressed by the offerings; was really glad that the restaurant took the time to explain each dish in its menu and the source of origin the ingredients came from.
I believe most customers dining at restaurants of such high calibre would appreciate these additional information, especially for those who are new to the fine dining scene or simply unfamiliar with Japanese ingredients.
Omakase @ Stevens | Course
The first course featured Sakoshi Bay Oysters from Japan.
Presentation wise, this is a masterpiece!
Could not help but stare in awe for a while; it looks more like a dessert than a simple oyster!
The dish is inspired by Chef's precious childhood memories living in the Japanese countryside. He used to pick up edible herbs and ate them on the side walk!
The oysters are served with green apple and shiso mousse, which is a common practice in French cuisine.
As expected, the Hyogo oysters were fresh and tasty. I was afraid that the overlaying mousse might overpower the textures but it was so subtle and delicate!
Next, Chef presented a series of small bites, titled "Hasssun".
1) Notably, Foie Gras mousse coated with Crispy Rice Crumbs topped with Yuzu Puree,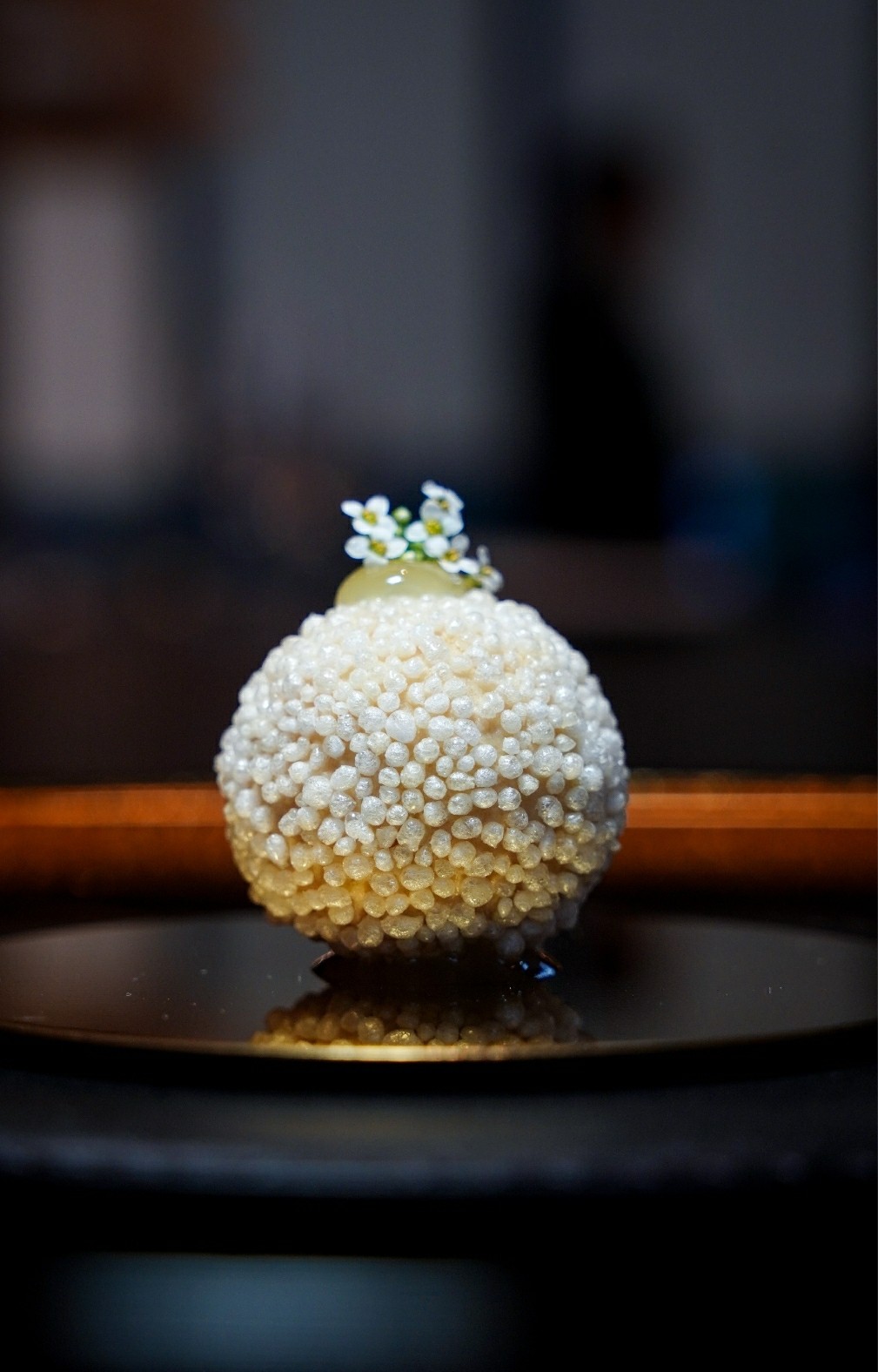 2) Wagyu Beef Tartar in filo pastry filled with tarragon mayonnaise and egg yolk,
3) and finally Sautéed Turban Shell with parsley butter topped with sea salt milk foam.
Each item was unique on its own and I found the Foie Gras mousse to be my favourite. There was a good balance between flavours and texture; the additional of crispy rice crumbs elevated the dish further.
The next dish was my all-time favourite. Katsuo Ibushi, smoked bonito with hay, matched with Gorgonzola cheese, fig and sherry balsamic sauce.
View this post on Instagram
The dish was inspired by Chef's senior during his first job in Japan. I was really skeptical at first. Katsuo with cheese sure does not sit well in my mind, but what a surprise this turned out to be!
Perhaps it was due to the smoky nature, but the Gorgonzola cheese actually served to be a wonderful compliment and the addition of Fig added hints of sweetness.
You also get rather luxurious items that are served before the mains, including Chawanmushi (steamed egg) served with Hokkaido hairy crabmeat and Awabi (abalone) served op top steamed sushi rice, accompanied with Awabi liver sauce and wasabi oil.
For some reason, the dishes offered here really remind me of ESORA, from the way the dishes are executed, to the kind of utensils and even the plating styles. Not complaining though!
Have really taken a huge liking to such aesthetics!
Omakase @ Stevens | Main Course
For the mains, Chef Shusuke presented me wit Amadai Urokoyaki and Sumiyaki Wagyu.
As explained by him, amongst most seasonal fish, Amadai or snapper is one of his favourites to work with.
When lightly fried, the scales turn crunchy and it has been a popular fish for Japanese locals. Chef elevates the fish further by complementing it with Hamaguri Clam dashi.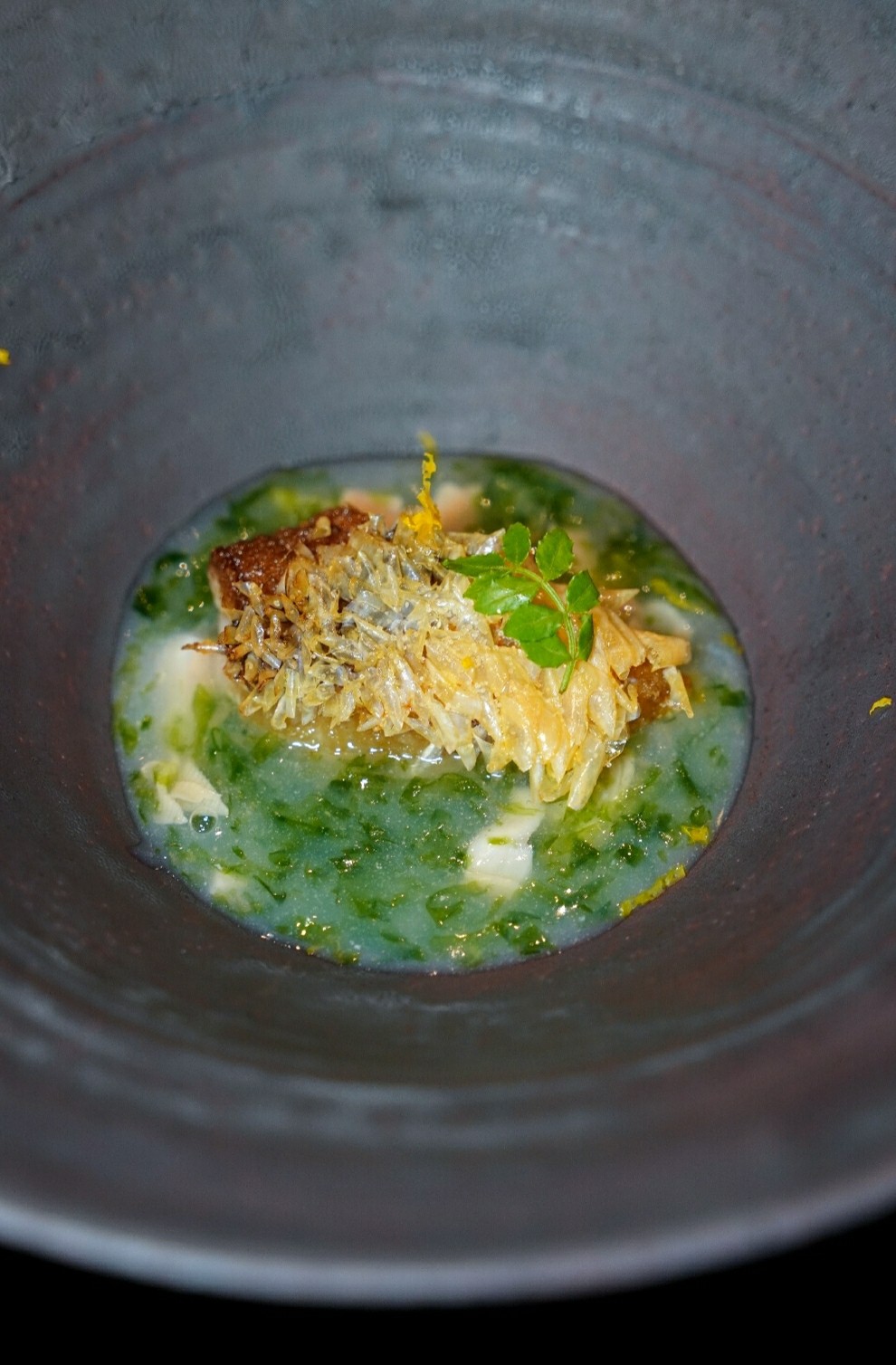 For the Wagyu, he uses A5 Kagoshima beef, which happens to be nominated for the best Wagyu award in Japan.
Chef charcoal grills the Wagyu to perfection and pairs it with sansho pepper sauce. As one would expect, the melt in the mouth beef was truly testament to the quality and high standards that Omakase @ Stevens holds itself to.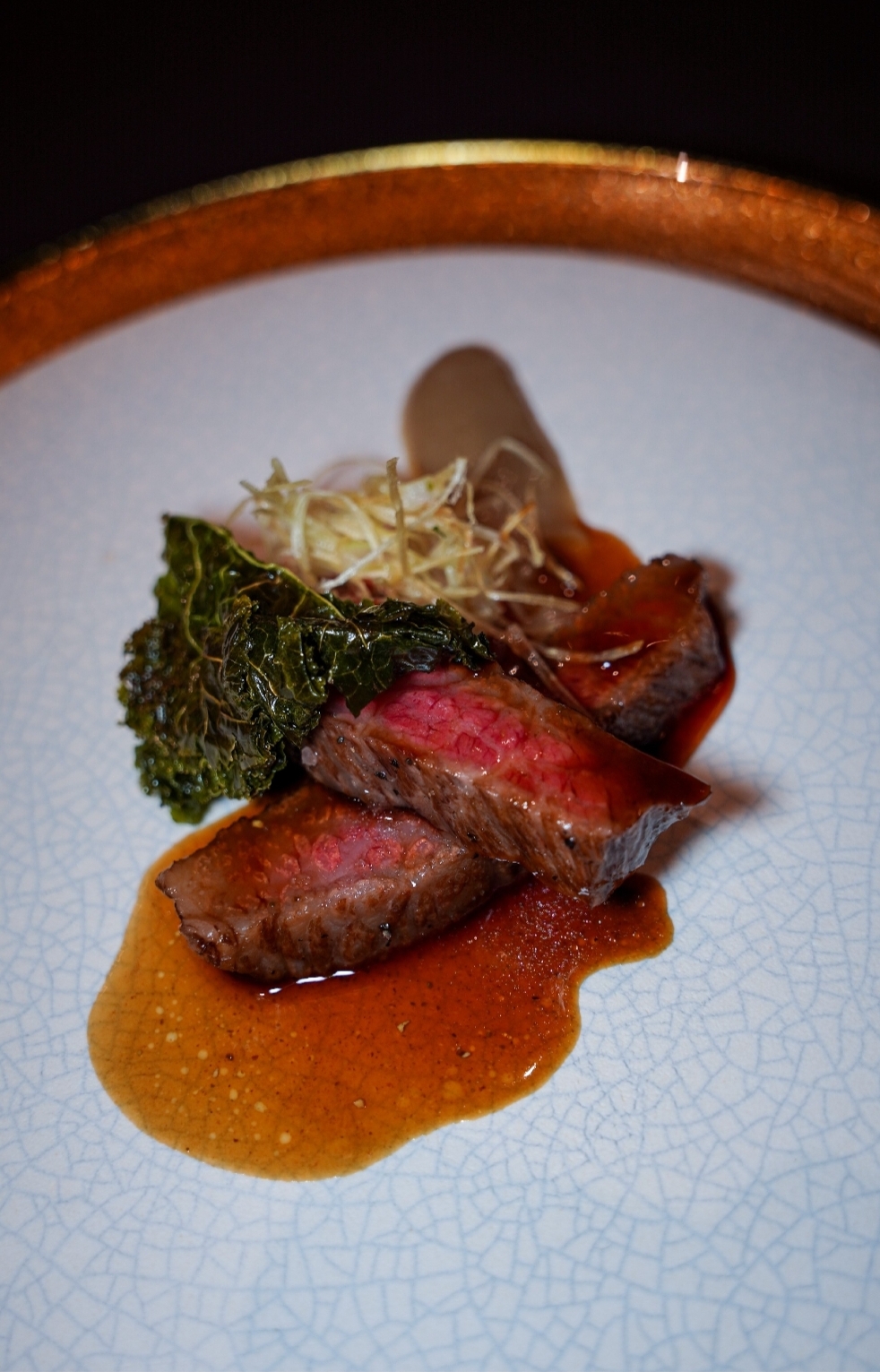 Omakase @ Stevens | Deserts
To end the course, you get to choose wither Japanese Yamanashi white peach with Gyokuro green tea or Mont Blanc Chestnut from Ibaraki.
As an avid fan of peach, I went straight for the white peach.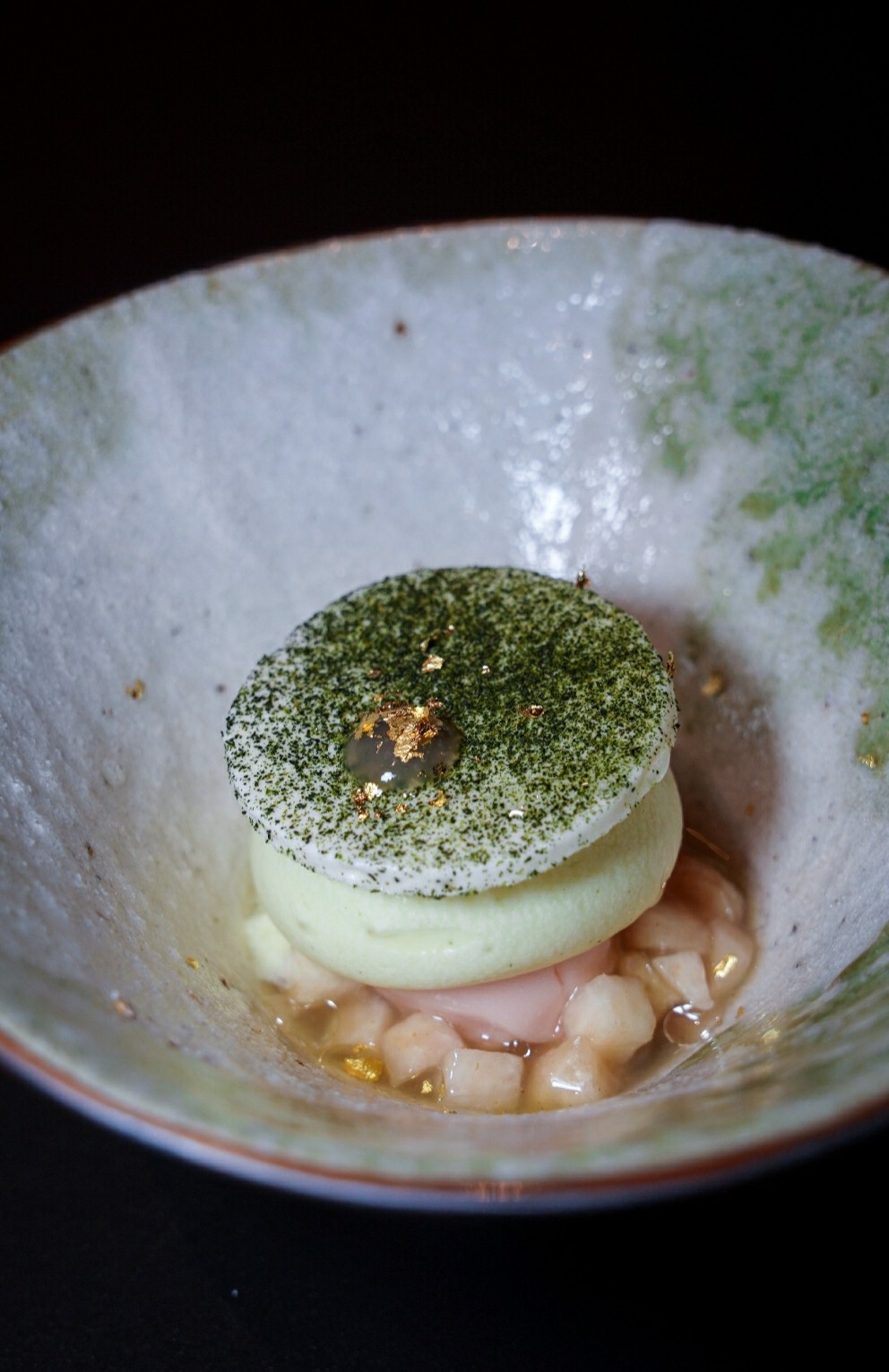 The sweetness is well contrasted by the Gyokuro tea; a rather perfect end to the wonderful meal!
With such a luxurious offering, backed up such a strong team, I reckon that Omakase @ Stevens will soon become the next big talk of the town.
I expect reservations to be snatched up quickly once the industry big shots have tried for themselves.
Do note that since the menu is seasonal, items tend to change frequently depending on the freshness and availability of items. I am already looking forward to Chef Shusuke's next upcoming menu and am expecting things to be even more fined tuned.
Omakase @ Stevens | Location