AV Star Murders Rich Husband Arrested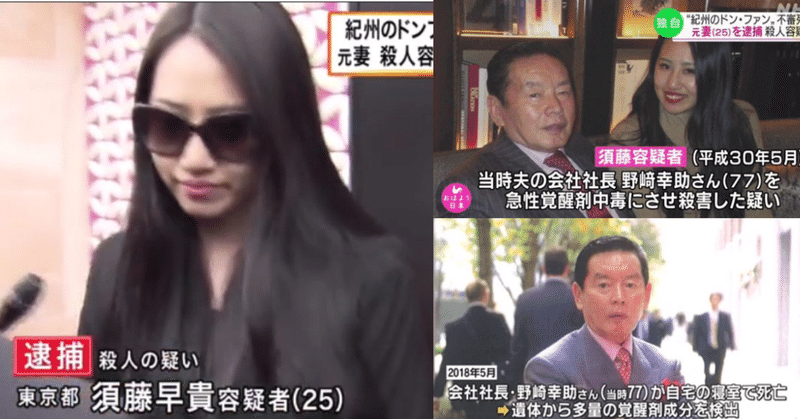 News crews followed police officers as they escorted Saki Sudo (25 yo) from her apartment in Tokyo to Haneda Airport
She's accused of murdering her playboy husband, 77 yrs old
By poisoning at their residence in Tanabe City 3 years ago
They married in February 2018, when he was 55 years her senior
Police revealed that her husband planned to divorce her
Police believed she carried out the crime out of fear that an allowance she was paid by Nozaki would be cut off
Police claims she murdered him by poisoning with stimulant drugs, at their residence in Tanabe on May 24, 2018
After her arrest, one of her adult video shot up to number one on several charts for AV (Adult Video) sites
An Adult Video actress, Saki Sudo, 25, was arrested for murdering her playboy husband, Kosuke Nozaki, 77, by poisoning him at their residence in Tanabe City 3 years ago.
Sudo is a native of Hokkaido Prefecture. After graduating from a vocational school in 2016, she moved to Tokyo and began her career in AV (Adult Videos). She is also known to have plastic surgery on her face.
Think sure got Singaporean guys who would still think she chio after this plastic surgery.
She got to know her her husband through an acquaintance in late 2017, and they married the following February.
He was 55 years her senior. Police had found out that he had planned to divorce her after his unhappiness for refusing to stay in Wakayama.
The police believe that she had killed her husband out of fear that he will cut her off her allowance.
According to documents for a company headed by Nozaki until his death, Sudo was appointed his successor as president about two months after he died.
She was appointed as the company's representative director. A lawyer for an auditor that served the real estate company said that around 38 million yen was transferred to her from a company account in September 2018.
AV stars murders husband for money?
Wah lao wei.
Such greed!
It does seem like she killed for money!! I think I need to think twice, if I'm gonna marry a vietnam xmm or a thailand xmm I met in KTV.
So scary, but hard to tell from her looks. After this I'm pretty sure still got guys who would be with her.
Hopefully by then she can choose someone base on their personality, and not by wealth. At least Singapore girls choose base on 7Cs, and not just money money money only.
I've never seen her videos, but after the murder, think one of her videos went to top seller haha. Those guys who buy very cb one.
Source: https://www.tokyoreporter.com/japan-news/tabloid/av-film-starring-wife-of-wakayama-playboy-current-hit-after-alleged-murder/